My children's school has a teacher appreciation luncheon in February and this year again I volunteered to make the centerpieces.  Last year I made table toppers and they were a big hit so this year I made table runners (I was asked to stick to valentine colors):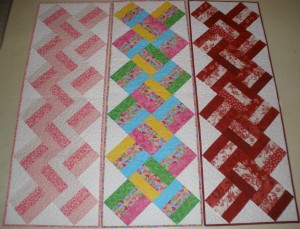 I didn't follow a pattern, just took 2.5″ strips, make simple 6.5″ blocks and used the setting triangles and corner pieces.  I wanted to make each one slightly different so I went with the three color ways.  You can't really tell, but the center one has Valentine/heart shaped lollipops in the center block fabric – and it's used in the binding.
I didn't think the runners would be enough so I bought some small bowls (I was looking for heart shapes, but this was the best I could do) and found some coordinating ribbon and filled each with candy: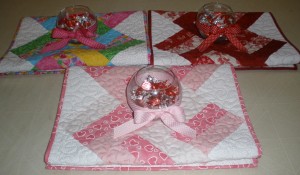 I sure hope the teachers that win these at the lunch tomorrow like them.  They do so much for our kids and this is a great way to show them we appreciate them.
Now all I have to do is finish my crazy quilt block for the round robin by Saturday and I will have met all my deadlines – YEAH ME!