This weekend I was working on a St. Patrick's Day table topper for a mini swap I took part in.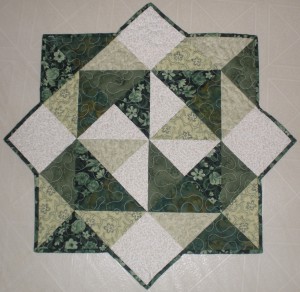 Sarah received her box yesterday so I can post photos of it!  I wanted the topper to feel like St. Patrick's Day, but not scream it!  I've made this pattern before and it's a dream to do up.  It is from Heather Mulder Peterson's book On A Roll.  It is indended to be made with charms, but I've always used the fabric from my stash.  I have charm packs, but I have the hardest time bringing myself to open them and use them!!
These versions I made a year ago for a teacher's appreciation luncheon: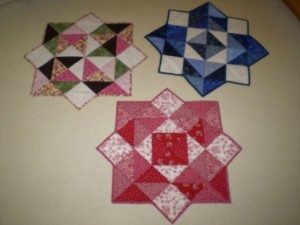 It's funny, I've made this pattern 4 times now – I really like it – but I don't own one!!  I'll have to work on that.  I cut enough fabric so I'm going to make another St. Patty's Day one for my Aunt and Unlce (he's Irish).
Last night I took Owen to karate again (thank goodness they openned the door to let some fresh, yet very cold air in, because it smelled pretty funky in there!!) and finished working on another of Jon's snowflake.  This time I used two shades of my new Lizbeth thread for the two outer rings and white for the inside ring.  I came out really nice.
I bet you're wondering why I'm not posting a photo of it.  Well, as I was sitting in class, the mother sitting in the row in front of me seemed to be having a really rough day (her daughter what giving her a hard time and it looked like she didn't have much patience left – BEEN THERE!!!).  Toward the end of class she turned around and asked me what I was doing and said it was lovely.  So at the end of class I had just finished it and I handed it to her – told her she could hang it in a window since we're nowhere near Christmas.  She was very appreciative and grateful and it made me feel good too.  So no photo, but at least I have a good reason!!!
And I taught myself a new tatting technique last night.  SCMR (self closing mock ring).  Jon's snowflake book is filled with so many GREAT patterns but a good number of them call from SCMR and I've shided away from doing them – WHY????  So I downloaded the directions from Jane Eborall's site as well as her Flowery SCMR Bookmark pattern.

Since I had some Pansy thread left on a shuttle – I jumped in with both feet (OK, maybe not the best way to learn a new technique!!)  I found doing the SCMR is easy but the pattern is a challenage – as it should be!  So I'm about half way done with the bookmark, it's going to be a birthday gift for best friend Cea who is a huge reader!!
The only problem I'm having with the pattern is attaching the second half of the split ring to the picot on the previous ring.  I just can't get it flat – this is the first time I've had to attach the second half of the split ring to a picot so I'm sure I'm doing something wrong – if you have any advise please let me know!!