I've been doing hand work since I was eight years old (and we won't do the math – OK!) and I find it very satisfying.   One thing that has always intrigued me is silk ribbon work.  Since I've been working on the crazy quilt blocks I've been brave enough to try some.  And now that I think about that, maybe other people's blocks aren't the best place for my experiments!!  But they seem to be working out well so I guess it's ok.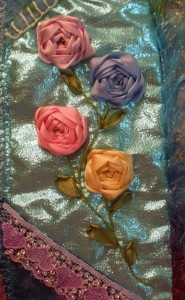 For this design I did follow a layout on a book cover.  The roses are spider web roses – VERY simple to make.  The stem and the leaves took me about 15 minutes.  But the result is just wonderful.  I think the roses are a bit large for the space, but I used a circle template and this was the smallest size I could find.
I think I need to continue my silk ribbon experiments because I'm having so much fun and enjoying the free form design.
My to-do list for this week is still very long but completing these roses were the finishing touch on my crazy quilt round robin block so I can take that off my list!!