Here are some tatting projects that I have been up to recently.
First I made my favorite cross book mark for our Deacon, Ed, and his wife Christine.  They are both made with Lizbeth thread size 20.  The pattern is from Tatting with Visual Patterns.  This will count as #10 on my 25 motif challenge.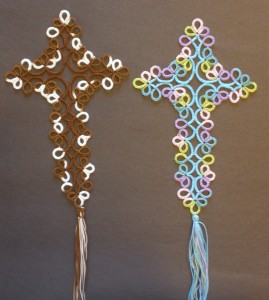 I made a mistake on Christine's but I don't think she will notice!
Next I did a bookmark as a birthday gift for my friend Carline, she celebrated her birthday on Monday and I'm going to see her tomorrow.  The pattern was from Jane Eborall's blog and the thread is size 20 Rhubarb Pie from Yarnplayer (my favorite color – I think!!).  This one is going to be #11 for my 25 motif challenge.

And lastly, I'm so proud of myself, I'm jumping into my first TIAS (Tat it and see), it's Dani's Easter TIAS.  I sure hope I got the first day right – I hope others post photos on their blogs so I can double check my work.  I almost never do a pattern without a photo or a diagram so this should be interesting!  I just hope I can keep up.  She recommended pastel colors so this again is Lizbeth thread, size 20.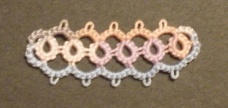 I'll be posting some quilting photos soon – I've been very busy on that front too!!!