What fun this quick weekend was!  On Sunday I took Julianna and her best friend into Boston to see Stars On Ice.  We drove about half way and took the train right into the Garden.  The girls had a great time.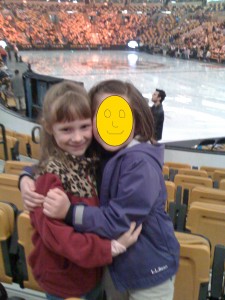 Times like this remind me that she won't be young forever and one day soon she won't even speak to me, much less what to spend time with me!!  I also started teaching her how to make a pin cushion – the jumbo yo-yo template is perfect for this and makes it very easy for her to sew!  I'll I have to post her finished cushion tonight.
Owen and Daddy spent quality time at the movies while we were gone!
Last month one of the women in my office retired and I just had to do a quilt for her!  I used my Bed of Roses jelly rolls that I had gotten a few years ago.  I knew that she would like the soft colors of that line.  The french braid pattern came from the book Jelly Roll Quilts by Nicky Lintott – it's the one on the cover.  She really liked it and her daughter-in-law (who is my hairdresser) told Peter that she's got it on her sofa and is using it – which is my rule whenever a quilt as a gift – it's a blanket – USE IT!!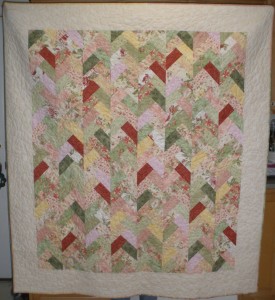 I can post about the table runner that I made for Nichole through Emilie's Easter Swap.   This is the third one of her swaps that I've done and I've been delighted with all of them!  I can't wait to receive my package from Nichole – hopefully it will be today!
This pattern is from Nancy Halversen, I love her work – I've done at least 6 of her designs.  I actually bought this book a long time ago because I liked this table runner so I'm glad I finally got to do it: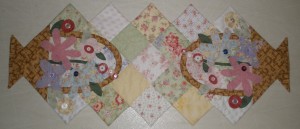 I used a Moda Simplicity charm pack that I had and some other fabrics from my stash.  The basket fabric I actually purchased to make small Easter baskets for the kids and I had enough for this project too – got to love that!  I even had all but two buttons!  I'm pleased with how it came out.  Here is a close-up of my hand blanket stitching…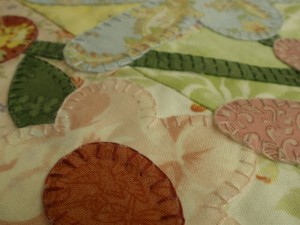 When I first starting doing fusible applique about five years ago, my machine didn't do a blanket stitch so I had to do it by hand.  Now that my machine does a blanket stitch – I still do it by hand, I like the results and I enjoy doing the hand work.
Last night I spent some time working on my retreat goodies for our Circle of Friends retreat that is happening on 4/23.  I need to make 70 goodies – I have 20 done so that will be my priority.
And last but not least, I send my fat quarter of fabric off to Tina for the mini log cabin swap we are doing.  I can't wait to see what she does with it!  I should be getting hers soon – I already know what log cabin pattern I'm going to do with it.