Looking back through my recent posts I don't see much about tatting – I promise I am working on stuff!
I did these pieces last weekend and I just didn't get around to posting the photos as of yet.
The first one is Jon's Heart Snowflake with a plastic ring in the center.  Jon has GREAT directions on her blog on how to do this.  I even got to show my new friend Lisa how to do it at the retreat.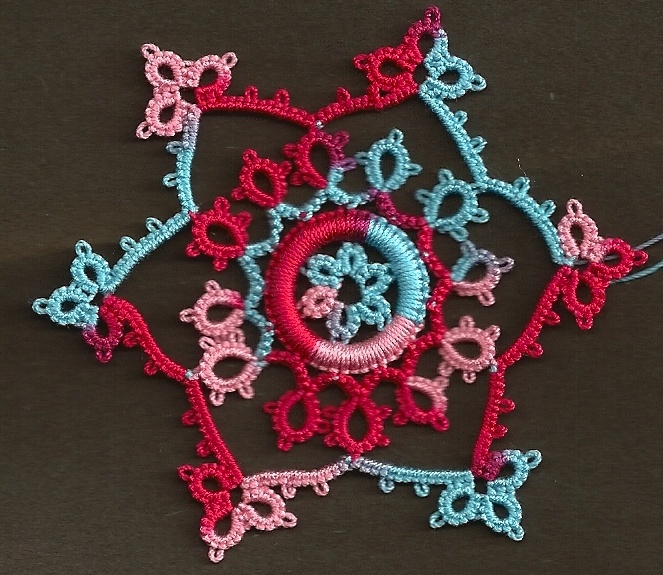 It is made with Lizbeth size 20 thread – Cotton Candy color.  It is the fourth round in my Colorful Snowflake/Coaster tatting swap – I hope Miranda likes it!  It also is #11 on my 25 motif challenge.
Next I did Marliee's Quardille earring pattern.  Earring are something I've always wanted to try and what better pattern to start with!!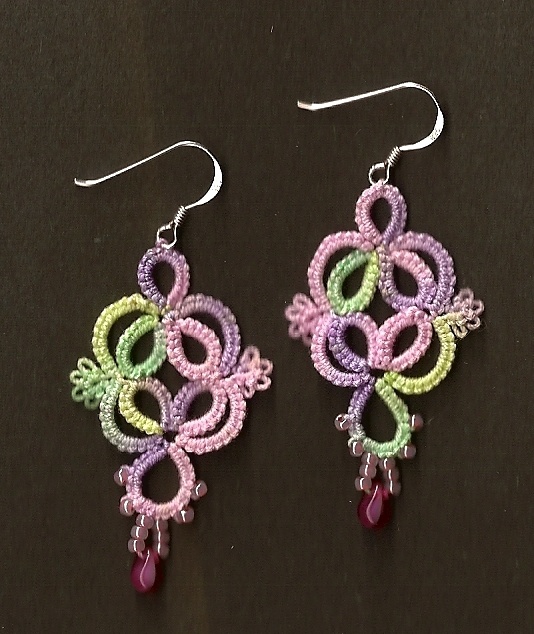 I used Ladyshuttlemaker's Easter Egg size 20 thread.  The beads I got while in Center Harbor this weekend on the retreat at Bella' Beads.  I actually sent these to the owner to the bead shop as she had never seen tatting before – I hope she likes them!  She had a lovely shop I just wish I lived closer!  I do have a new shop that has opened here that I like too – nice to have so many beads close by.
I did show them off to people at work first one of my co-workers liked them so much that this morning I brought it all my threads and beads and she picked out thred for a pair for herself and a pair for her sister.  Now I just have to find time to make them this weekend!!!  They are #12 on my 25 motif challenge.
Next I think I'm going to experiment with plastic rings and earrings – I'm inspired after looking at the lovely work done by Krystle.  But no fun time to play this weekend!  And did I mention that I'm making my Mother a lap size Bento Box quilt for Mother's Day – 9 DAYS AWAY!!!  I might I want to get started on that too!!!
I have more pictures to share of the hardwood floor progress from last night.  Hopefully later today!