Today I was completely shocked when Sherry let me know that I won one of her hand crafted ceramic shuttles.  I could not believe my luck and I absolutely can't wait to receive it!!
That got me thinking that I should pay her generosity forward – sorry I don't hand craft one of a kind shuttles but I have been told that I make a mean purse!
I made this purse tonight it's my smaller version of the Lazy Girl Designs Miranda Bag.  I measures approximately 8 1/2″ high, 12″ wide and 3″ deep.  It has wooden handles, magnetic snap closure, 6 interior pockets and firm bottom to prevent sagging.  I'm even going to include a matching key fob.  I made this bag for me, but I have enough fabric and materials to make another one just like it.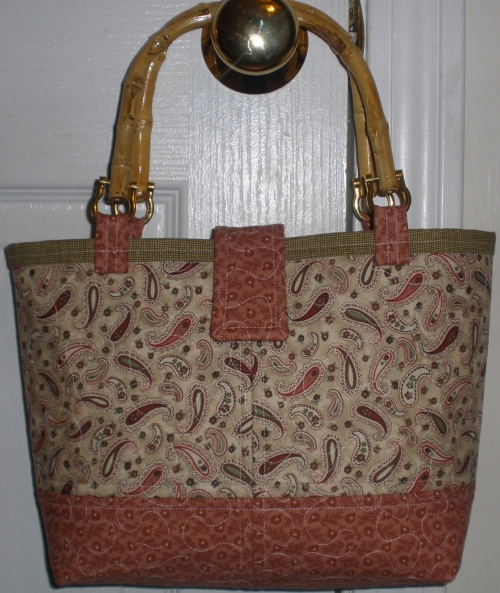 Here is what the inside looks like: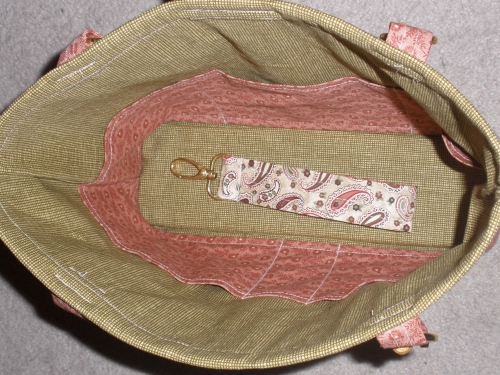 If you'd like this bag (or even pick your own fabrics if you don't like these – I have a fairly large selection of fabrics at home – what quilter doesn't) just post a comment on this post and I'll draw the lucky winner next Friday (1/23).
And thank you again Sherry – I can't wait to get my new shuttle!