Winner has been selected – thanks for entering!
Today is May 27th and it is the start of Sew Mama Sew's great May Giveaway Day.  Here is what I've made to be won:
I made this purse, it's my smaller version of the Lazy Girl Designs Miranda Bag.  I measures approximately 8 1/2″ high, 12″ wide and 3″ deep.  I fell in love with this dot fabric and just had to make something with it!
It has wooden handles, magnetic snap closure, 6 interior pockets and firm bottom to prevent sagging.  I'm even going to include a matching key fob and a wallet (the wallet isn't done yet, but trust me – it's CUTE!!)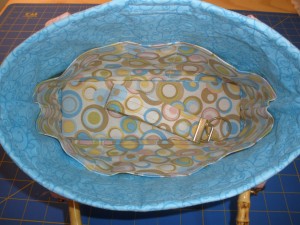 And the bag has been treated with Scotchgard to help protect it.
All you need to do to win is post a comment on this thread (be sure to include your email address if you don't have a blog so that I can contact you!) before 12pm (eastern standard time) on Sunday, May 31st.  Shortly there after a winner will selected by random number genertaor.  I will ship this prize internationally, so please enter!
It's that easy! 
GOOD LUCK!!