I can't believe it has been over two months since I've posted on my blog!  I'll try to give you the highlights!
I'll start with the family related stuff.  We just got back from our vacation at Old Orchard Beach, ME.  We've been going for three years now and we just love it.  The kids never get tired of the beach!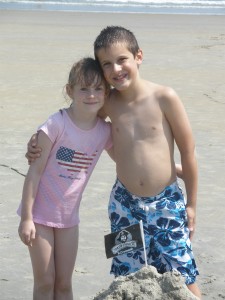 The week before we went to OOB, the kids spent the week in Vermont with my sister-in-law and her family.  The kids loved every mintue of it and given the fact they've never been away from home for that long, they did very well.  I wonder if Elizabeth has recovered yet!!
Owen celebrated his 9th birthday in June – where did the nine years go???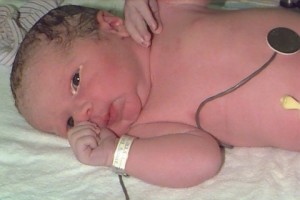 And Julianna had her tap performance.  This year she was a NYC street performer in the studio's performance of Disney's Enchanted.  This was the first year is practiced really hard at home to get it just right and all her hard work paid off – it was great – take a look…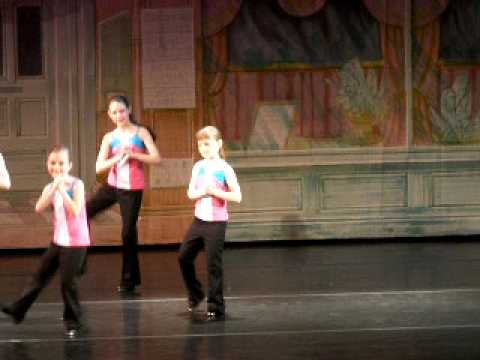 I've gotten a lot of craft related things done over the past two months too.  First I did some centerpiece goodies for the final teacher appreciation lunch of the year.  I made fabric baskets (I followed a pattern that I found on a blog – I don't remember who it belongs to, so if you do, please let me know and I'll post it) and filled them with some desk goodies for the teachers.  This time around Julianna's assistant teacher, Mrs. K, won one!
I also made a book thong for each one of the kid's teachers, they were very fun and easy.
I've been working on mini quilts too.  Here are two that I made for swaps that I was in.  The first is a modified log cabin that I designed.  I'm sure that somebody else has come up with this layout too – heck it's just log cabin, but I do have the 8 pages of sketches that I did to reach this design.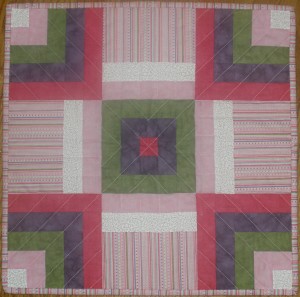 And this mini was part of a challenge where your partner sent you charms and you had a do a mini quilt.  I started playing with the math and figured out that I could adapt the Bento Box pattern to perfectly fit a charm!!  I was so excited – I'm very pleased with how this one came out – I'm going to have to make more of these guys.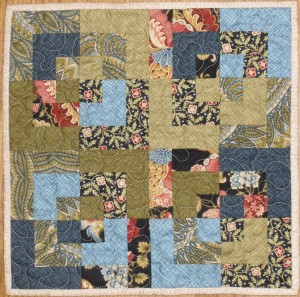 I also received a wonderful mini quilt from my good friend Elaine.  She sent me this "just because" and it came at a time when I really needed to be cheered up – I will charish it forever!! I love oriental fabrics and this little wallhanging is just perfect.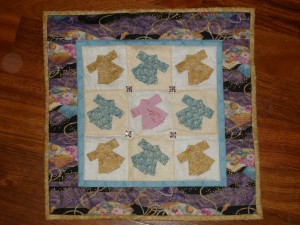 I tried my hand a selvage project.  I made these loyality card wallets for a swap that I was in.  They went together very quickly and it had me cutting all the selvages off my stash!  I found the pattern and inspiration from Karen's Selvage Blog.
I finished two crazy quilt project.  The first I had posted about on May 19th, a friend gave us dance outfits from her daughter and we had to use only those fabrics to create a crazy quilt  block.  First here is the naked block and then the finished product:
This next project was the annual HGTV Crazy Quilt One Block Swap.  The theme that I got from my partner was "Ocean".  I received so much help with this block, from donations of materials to embellishment recommentions and lessons!  I'm so very grateful to everybody who helped out.  Here are the naked and finished blocks:
I did two pieces of tatting for this block.  First was the seahorse, he's the first animal I have tried – I was pleased that he looked like a seahorse when I was done!!  I used Debbie Arnold's very easy to follow pattern.  The second piece is the star fish on the bottom left.  When I went to attach the star fish to the block I noticed he had six points and not five (that is what I get for tatting and talking at midnight – I wasn't paying very good attention!!), so off came one point and he looked so much better!  Here is the link to the pattern. (I'll have to get the thread colors/sizes at home I don't remember them off the top of my head – I know it was HDT).
And finally, I did some lap quilts for Julianna's teacher and assistant teacher for the end of the year.  They were both great all year and I really wanted to thank them for their hard work.  I used the Strip This Quilt pattern from Green Fairy Quilts.  If you have a jelly roll and need a really quick gift, BUY THIS PATTERN!!!  It was one of the easiest patterns I've ever done and I just love the results!! (Sorry the pictures are so 'soft', I did realize until later that there was a finger print on my camera lens!)
See, I may have been gone, but I've been keeping busy!  Tonight and tomorrow I have to work on a table topper for my parents as an Anniversary gift – I'm giving it to them on Saturday and have not started yet – no pressure!!