What a crazy week it was last week and the weekend was just as busy!  Both Owen and Julianna were sick last week, different reasons but they are both on the mend now.
And this weekend was Julianna's 7th birthday.  I don't know how she got so old so fast.  She is my angel and I can't imagine my life without her.  I pray that she and I have the great relationship that my mother and I have when she is older.  Her birthday theme was Hello Kitty which was very easy.  I'm going to preface this photo with the fact that cake decorating is not my thing and the star tip is my friend!!  One day, when the kids are grown and gone, maybe I'll go to Johnson and Wales and take a "real" cake decorating class.  But for now, this is the best I can do.  Julianna loved it so that is all that really matters!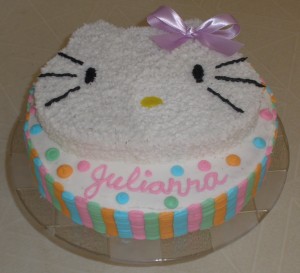 This cake was for the friend bowling party on Saturday and on Sunday we had the family party at our house – she only got cupcakes for that party!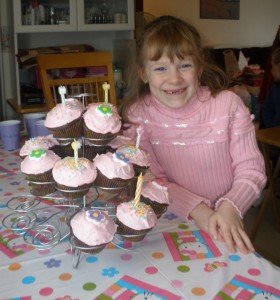 We had fun but I'm glad I don't have another party to plan until June!