Yesterday I got a GREAT call from my tea towel recipient Bina in WA.  I'm so happy that I didn't do something stupid like "Google" Bina before I sent her the towel, turns out she is a very accomplished tatter as well as a teacher.  YIKES!!!  I was worried enough without knowing that information!
It was so great to speak to her.  She was very encouraging of my work and also gave me some great advice as to how I can improve my skills!  She even walked me through how to do directional tatting (which was totalling confusing for me before) and some 3D tatting.  It's great to be connected to somebody who can help me when I get stuck.
So without further ado, here is the finished tea towel: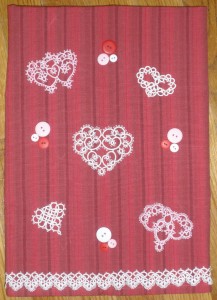 And thanks to Bina I'm going to try my hand at some more tatting swaps.  Thanks so much for all your support Bina – it means the world to me!
I've been busy working on some tatting for my crazy quilt round robin block, hopefully I'll get that finished up tonight and stitched on.