I've been busy with many small projects lately.
One on going project is my crazy quilt round robin through HGTV's message board.  This latest round I did some square motifs with beads attached on point.

The pattern is from This 'n' Tat.  The only changes I made was that I used less picots in the center rings than called for.  The thread is DMC Cebelia 30 pink.  I think it fulled the space nicely.  It is motif #7 for my challenge.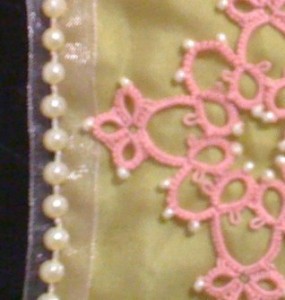 The next round I have to work on doesn't have any large spaces so I'm going to have to come up with something small, yet stunning to make!!
Yesterday I took the day off to spend it with the kids since they are on vacation this week, I thought we could hit the library, a movie or lunch.  Sadly Julianna had the same stomach bug that I had last weekend so we didn't go anywhere!  It was nice to be home with her while she was sick – Mommy's do sick better than Daddy's (IMHO)!
I did work on a project for the colorful snowflake round robin swap that I'm in.  Since I've only been tatting since last fall, I'm very nervous about joining any tatting swaps as I don't want my work to disappoint anybody.  However, Bina who received my Valentine's tea towel, was SO very supportive of my work I figured I'd give a swap a try.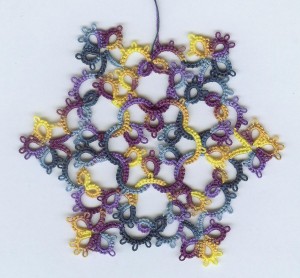 This snowflake is Jon's wonderful Quantiesque Snowflake.   I just love her patterns!!  I've seen so many people do this one in so many great colors.  Mine is done in Yarnplayer's "Pansy" HDT 20.   I orginally tried this pattern with Yarnplayer's "Snowflake" back when Jon posted the pattern in December, but I ran out of it!!!  Never fear, I see that Marilee has more in her shop so I'll just HAVE to order more to finish that one off too – maybe for my tree!!  This is motif #8 for my challenge.
Next I want to work on Marilee's "Eternal" cross.  I know a little girl who just might like it!!  Although I have to say the 3-D rose scares me, but I'll give it a try.