I've been remiss in posting photos of the flooring project – SORRY!
By the end of the day Sunday we had completed the flooring in the office as well as painting the walls and adding the floor trim.  We pretty much had no choice since Peter had to work on Monday so he needed to be up and running since he works from home!
So here was the office before the remodel: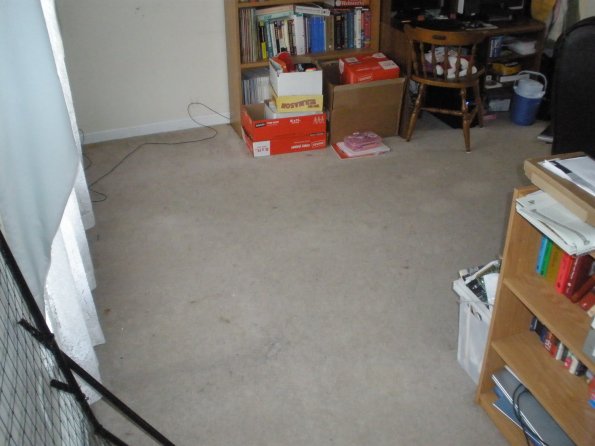 And here is the new office (minus any furniture):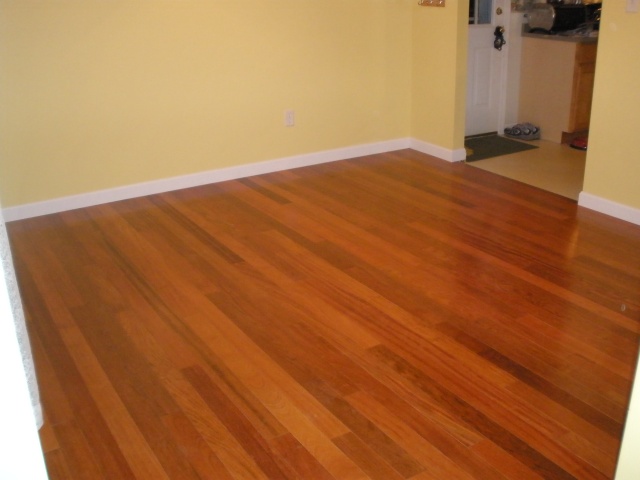 I can't tell you how THRILLED I am with our new room.  The color on the walls is perfect for the office, the floor color is gorgeous.  I'm so glad Pete talked me into spending the money and purchasing the solid hard wood floor – it is so nice!
And a very big thank you to Dave (Peter's friend) who spent his whole day Saturday at my house helping us out.  And my Dad too to pitched in when he came over in the afternoon.  We could not have done it without you guys!!  Tanyon had to get in on the "helping" too!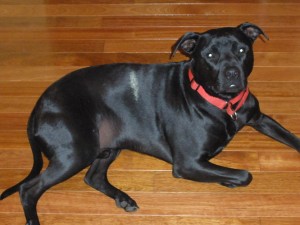 In addition to painting his side, he painted his tail and is paw AND got liquid nails on the bottom of one of his paws too!!  Luckily little Miss Savannah stayed out of trouble and only got a little paint on her whiskers.
The hallway is also painted and ready for the flooring to go down and the trim we are going to do.  But we are going to take this weekend off and celebrate Mother's Day so we'll tackle the hall next weekend.
I FINALLY started the quilt for my Mom's birthday on Sunday, yes, this Sunday!  I made good progress on it last night (while watching the Red Sox beat the yankees – AGAIN!!) and I should be able to finish piecing it by Friday night and that will give me most of Saturday and 1/2 of Sunday to quilt and bind it.  It's only a lap size so it shouldn't take too long.