I recently finished my last round of the HGTV crazy quilt round robin.  This round went to your group Mom Nicki.  Her block was all soft pinks, greens, creams – very shabby chic!
I did this small snowflake from Jon's book (I don't remember the name of it – sorry Jon!) out of Ladyshuttlemaker's Easter Egg HDT, size 20.  I added some beads since it was going on the crazy quilt block.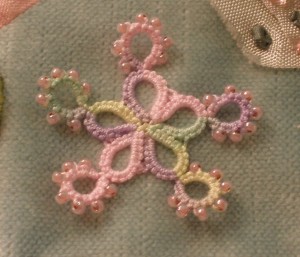 This is motif #13 for my 25 Motif Challenge.  Hard to believe that I'm half way done!!  I was worried that I would not be able to make all 25 in one year.
Here is another seam that I worked on: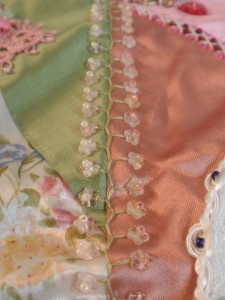 I have not heard anything from Kate who is working on the final round of Julianna's block.  But from what I've heard it is completely gorgeous – I can't wait to get it home!!!  Here is what it looked like naked before it heading out.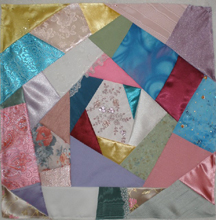 I'm also doing a crazy quilt challenge right now.  A friend gave me three of her daughter's old dance costumes that the challenge is to use ONLY the fabric on these costumes to make a crazy quilt block.  Here are the costumes and I received them: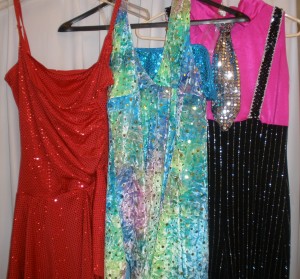 And here is the naked pieced block: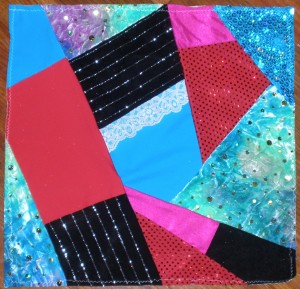 I got creative and turned the black fabric over in one section so it is a solid black piece!  And I'm going to use the extra aqua sequins from the piece on the upper right on a different seam treatment.  I haven't started working on it yet, I have one other project I must complete tonight and then I'll be on to this project.
I've started collecting my Ocean theme fabric and materials for another crazy quilt block swap – this one is not a round robin, I make the entire block and send it off to it's owner.  I sure hope she likes it!!
I have been doing other sewing/crafting projects – I'll post about them tomorrow!